Projects
The DrugLogics initiative comprises a number of different subprojects, all geared towards the development of personalised medicine, or precision  medicine.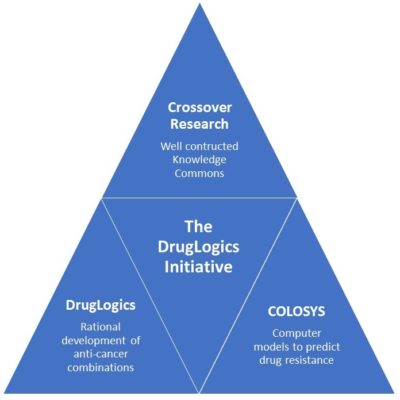 In the subproject "ONCOLOGICS" we aim to bring Personalised Medicine to the clinic by demonstrating that we can predict an individual's tumour drug therapy responses through a platform comprising joint in silico computational modelling and functional validation in patient-derived tumor tissue cultivated ex vivo.
In the subproject "Crossover Research 2.0 – Well constructed Knowledge Commons" the domain of precision medicine is explored as a key visionary driver for developing the Knowledge Commons and the enabling of Systems Biology approaches to innovate healthcare. In particular, we seek to engage stakeholder concerns in investigating and establishing strategies for DrugLogics to contribute to the Knowledge Commons in an RRI mode. Learn More.
The subproject "Rational development of anti-cancer combinations" focuses on precision medicine for cancer by pursuing novel insight into cancer disease mechanisms, combinatorial drug treatment in order to enable selection of the best treatment for the individual patient. The aim is to develop and integrate computational, experimental and analytical approaches to predict and validate anti-cancer drug combinations and produce an integrated pipeline for rational screening of synergistic drugs and for clinical decision support in precision medicine. Learn More.
In the subproject "COLOSYS" we have developed a deeper understanding of colon cancer networks by converting them into computer models with which we have tested the prediction of their response to treatment. The combination of computational, experimental and clinical testing is further explored to understand drug resistance mechanisms, further paving the way towards personalised treatment of colon cancer. Learn More.