Thea Johanna Hettasch
Position:
Master Student, MSBIOT5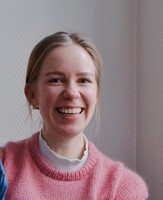 Department/University:
Department of Biology, Norwegian University of Science and Technology (NTNU)
Address:
Realfagbygget, Høgskoleringen 5, 7034 Trondheim
Area of Expertise:
Cell Biology
Bioinformatics
Systems Biology
Biography:
I am studying biotechnology at NTNU in Trondheim and am doing my master's degree in the field of systems biology.
My Project:
Title: Topology and calibration data influence on drug synergy predictions 
The aim of my master's project is to contribute to the optimization of the DrugLogics synergy prediction pipeline. I will investigate how different calibration data characteristics influence the predictive ability of the pipeline. I also aim to look at how network topology and logical rule optimization influence drug synergy predictions.
Supervisors:
Åsmund Flobak – IKOM, Martin Kuiper – IBI, Eirini Tsirvouli – IBI
Contribution to the Different Sub-projects
Role in the Sub-project(s):
Working on the NTNU Logical Modelling pipeline
Contributed Since:
10/01/2022, thesis submission: 15/05/2023
Scientific Activities in the Different Sub-Projects