Sara Perez Syltern
Position:
Master Student, MBIOT5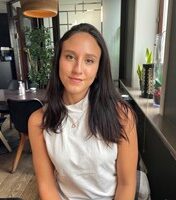 Department/University:
Department of Biology, Norwegian University of Science and Technology (NTNU)
Address:
Realfagbygget, Høgskoleringen 5, 7034 Trondheim
Biography:
My name is Sara, and I am a master student in Biotechnology at NTNU with specialization in systems biology. Through my studies I have gained some experience in both experimental and computational lab work. For my masters I am building and testing a logical model  representing Inflammatory Bowel Disease epithelial cells.
My Project:
Construct a logical model representing Inflammatory Bowel Disease epithelial cells from an existing psoriatic keratinocyte model and existing literature.

 See if the model can help to understand pathway regulatory/mechanistic differences between Crohn's disease and Ulcerative Colitis.

Testing the model to see if an epithelial IBD logical model can be used to identify ligand and ligand combinations that can emulate the IBD phenotype observed in patient material.

See if intercellular interactions between epithelial cells and macrophages can be incorporated to correctly describe multiscale regulatory dynamics underlying gut homeostasis.
Supervisors:
Martin Kuiper – IBI, Torunn Bruland – IKOM, Atle van Beelen Granlund, IKOM, Eirini Tsirvouli, IBI
Contribution to the Different Sub-projects
Role in the Sub-project(s):
Working on Inflammation-based diseases
Contributed Since:
14/02/2022, thesis submission: 15/05/2023
Scientific Activities in the Different Sub-Projects