Martin Kuiper
Position:
Professor in Systems Biology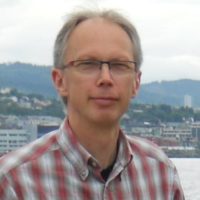 Department/University:
Norwegian University of Science and Technology (NTNU)
Address:
Høgskoleringen 5, 7034 Trondheim, Norway
Area of Expertise:
Knowledge Management
Gene Regulation Consortium
Curation
Ontologies
Systems Biology
Biography:
My group is developing a platform for Semantic Systems Biology: the use of semantic knowledge bases for computational reasoning and complex query support in order to come up with new hypotheses about biological networks, their structure and components, and their function. My group thereby has a significant skill base in semantic web technologies (www.semantic-systems-biology.org).
Although this work primarily involves the use of curated knowledge sources like the GO database and UniprotKB, we now also include work with information from text. Together with the Lægreid group we are collaborating with the group of Alfonso Valencia in Barcelona to produce text corpora that allow the use of text mining for the automated detection of gene regulation events (TF-TG interactions) in PubMed abstracts.
Currently we are moving more to the process of curation and the building of computer models for biological network simulation. This involves the development and assembly of high quality information repositories that can readily be used by computers to analyse and build biological networks ('Knowledge Commons"), and we have initiated a global initiative to join forces for the domain of gene regulation (www.theGRECO.org), which is now funded by COST (www.GREEKC.org). One of the efforts we undertake is the annotation of DNA binding transcription factors for human, mouse and rat (www.TFcheckpoint.org), with annotation results being submitted to the GO database (http://www.geneontology.org/page/go-database) and IntAct (https://www.ebi.ac.uk/intact/). We have also developed a focus on the production of a 'causal statement' repository: a curated resource of statements that denote regulatory events, which can be readily used by logical model building software.
Contribution to the Different Sub-projects
Scientific Activities in the Different Sub-Projects
ONCOLOGICS:
Co-PI.
GREEKC/GRECO:
Together with DrugLogics co-PI Astrid Lægreid I initiated the Gene Regulation Consortium effort (www.theGRECO.org). I was the Action Chair of the COST Action GREEKC, the European-part of the GRECO initiative that receives funding from COST  (www.GREEKC.org). I coordinate the GRECO consortium.
COLOSYS:
Project coordinator. In the ERACoSysMed project COLOSYS: Using computer models to predict drug resistance in colon cancer' (www.colosys.org) we developed a deeper understanding of colon cancer networks and converted them into computer models with which we have studied response to treatment. The combination of computational, experimental and clinical testing remains my focus, to understand drug resistance mechanisms, further paving the way towards personalised treatment of colon cancer.
NTNU Health DrugLogics:
Co-PI of the NTNU funded project 'Rational development of anti-cancer combinations', led by PI Astrid Lægreid. My group focuses on the development of standardised knowledge resources for computational modelling.
Crossover Research:
Co-PI of the NFR funded Responsible Research and Innovation project Crossover Research 2.0 (CR2): Well Constructed Knowledge Commons, a project that is led by PI Run Nydal. The CR2 project aims to study the development of the Gene Regulation Knowledge Commons that drives the DrugLogics Systems Medicine approach. The project involves both the development of a logical modelling software pipeline and the production and construction of Knowledge Commons components that provide the information from which logical models can be constructed. We in particular focus on the development of a user-friendly but flexible curation environment that may be used in community-base curation, for the production of content for the Knowledge Commons.