Marius Dobbe Klemetsen
Position:
Master Student, MSBIO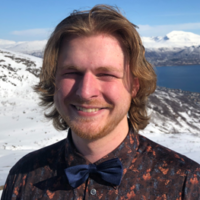 Department/University:
Department of Biology, Norwegian University of Science and Technology (NTNU)
Address:
Realfagbygget, Høgskoleringen 5, 7034 Trondheim
Area of Expertise:
Systems Biology
Cell and Molecular Biology
Programing in R, python and Java
Biography:
I am a master student in biology, specializing in cell and molecular biology, at NTNU. I took my Bachelor's degree at The Arctic University of Norway – UiT (Tromsø), also in biology. At the Master level I have developed a particular interest in Systems Biology and the broader field of Computational Biology. At the moment it seems like I am heading towards the plant-side of biology, which is interesting given most of my fellow students are more into human/animal studies. My dream is to be the link between seasoned plant researchers and the most up to date computational procedures and technologies.
My Project:
Title: Mapping a prior-knowledge network of regulated cell death in plants.
The objective is to assemble a regulatory network that is suited for computational simulations and experimental validation, and alternatively highlight areas of inadequate knowledge.
In this project the aim is to generate a network model of reactions leading to regulated cellular death in plants. The model will be based on prior-knowledge found in the scientific literature. A major aspect of this project is to expand upon the accessibility of this prior-knowledge by generating open-source models that are accessible, updatable, and expandable by communities like the Plant Cell Atlas initiative. Moreover, it will hopefully be a resource for my associated laboratory group for hypothesis testing and -generating in their own research. Another aspect of the project is to utilize software and methods that may not have been developed with  plant-research in mind. One of these could be the MINERVA (Molecular Interaction Network Visualization) Platform, used to visualize multiple layers of models. In several stages of the project it will be of interest to look for orthologous genes shared within certain domains of life (e.g. between plants and Cyanobacteria, or plants and animals). What remains to be seen if the prior-knowledge of regulated cell death is sufficient to generate a logical model.
Supervisors:
Martin Kuiper – IBI, Daniela Sueldo – IBI, Eirini Tsirvouli, IBI
Contribution to the Different Sub-projects
Role in the Sub-project(s):
Working on Prior Knowledge Network building
Contributed Since:
Start: August 2023; thesis submission: 15/05/2024
Scientific Activities in the Different Sub-Projects