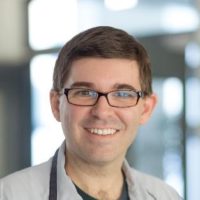 Department/University:
Department of Clinical and Molecular Medicine (IKOM), Norwegian University of Science and Technology (NTNU)
Address:
St Olavs Hospital, Gastrosenteret, 3rd floor, North wing, room 431.03.020, Prinsesse Kristinas gate 1, 7030, Trondheim, Norway
Area of Expertise:
Biocuration
Computational Systems Biology
Network Biology
Machine Learning
Biological Knowledge Management
Data Visualization
Contribution to the Different Sub-projects
Role in the Sub-project(s):
Postdoc
Contributed Since:
February 2016
Scientific Activities in the Different Sub-Projects
Crossover Research:
Marcio's main role in this project is to convert, via biocuration process, unstructured knowledge of transcriptional regulatory activities of about 500 sequence-specific DNA binding transcription factors (DbTFs) (PMID:23981286; PMID:27270715) into structured and computable knowledge following Gene Ontology (GO) standards. Besides extracting knowledge of DbTFs from biomedical literature, Marcio has also managed and lead the biocuration process, including the establishment of a work plan, development of biocuration guidelines and quality control evaluation. In addition, Marcio has been involved in the conversion of curated DbTF knowledge into IntAct database (https://www.ebi.ac.uk/intact/) compatible formats in collaboration with Sandra Orchard and Pablo Porras from the European Bioinformatics Institute (EBI; https://www.ebi.ac.uk/) in Hinxton, United Kingdom. Finally, Marcio has participated in the discussions concerning his role as a biocurator and the role of the computable knowledge of DbTFs as an enabling factor for the Gene Regulation Knowledge Commons (http://greekc.org/) in the light of the Responsible Research and Innovation (RRI) principles (https://www.ntnu.edu/crossover-research).
GREEKC/GRECO:
Marcio's roles in GREEKC/GRECO partially overlap with his roles in Crossover Research project, particularly the biocuration activity to generate computable knowledge of transcriptional regulatory activities of DbTFs to enable the Gene Regulation Knowledge Commons. Other GREEKC/GRECO-related roles include the (1) adaptation of the Human Transcriptional Regulation Interaction Database (HTRIdb, http://www.lbbc.ibb.unesp.br/htri/), created by Marcio and other Brazilian partners in 2012, to new standards and requirements established by GREEKC/GRECO, (2) development of new GO terms, in close collaboration with GO researchers, to describe knowledge of transcriptional regulatory events and (3) creation of annotation guidelines for labeling DbTFs, their target genes (TGs) and the type of DbTF-TG interaction in abstracts retrieved by large-scale text-mining approaches (in collaboration with Martin Krallinger from the Barcelona Supercomputing Center; https://www.bsc.es/krallinger-martin).