Ingrid Vikan Sjurgard
Position:
Master Student, MBIOT5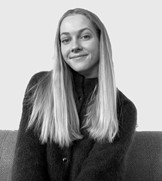 Department/University:
Department of Biology, Norwegian University of Science and Technology (NTNU)
Address:
Realfagbygget, Høgskoleringen 5, 7034 Trondheim
Area of Expertise:
Systems Biology
Data Analysis and Programming
Molecular Biology
Immunology
Logical Modelling
Biography:
I am a master's student in systems biology at the Norwegian University of Science and Technology. Will finish my M.Sc. degree in May 2022. Interested in genetics, medicine, immunology, bioinformatics, and data analysis.
My Project:
Analysis of high-throughput omics data from patients diagnosed with high-grade serous ovarian cancer for identification of affected genes and pathways

Add these pathways and genes to the CASCADE 2.0 model, perform additional literature curation to identify relevant genes and pathways

Construct an ovarian cancer model, perform logical modeling.

Use the DrugLogics pipeline together with drug treatment data to analyse drug synergy predictions.
Supervisors:
Martin Kuiper – IBI, Kaisa Lehti – IBF, Eirini Tsirvouli, IBI
Contribution to the Different Sub-projects
Role in the Sub-project(s):
Working on cancer systems modelling
Contributed Since:
01/08/2021, thesis submission: 15/05/2022
Scientific Activities in the Different Sub-Projects