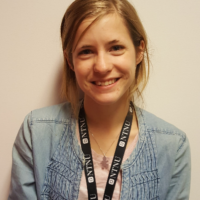 Department/University:
Norwegian University of Science and Technology (NTNU)
Address:
Gastrosenteret, Øya, Trondheim, Norway
Area of Expertise:
MSc in Engineering; Biotechnology – Molecular biotechnology, Lund University, Sweden
Master's Thesis in Applied Biochemistry; research on nanomaterials for use in diagnostics and treament of cancer, carried out at Spago Nanomedical AB, Lund, Sweden
Work experience in organic chemistry and analytical chemistry, Spago Nanomedical AB
Contribution to the Different Sub-projects
Role in the Sub-project(s):
PhD
Contributed Since:
May 2017
Scientific Activities in the Different Sub-Projects
COLOSYS:
As a part of the COLOSYS project, my PhD project has the higher aim of validating and refining the model(s) used for making predictions of cellular response to combined targeted therapy. This validation process partly relies on a high-throughput cell line screening platform, which will be developed and optimized during the course of the project. The drug combinations held to be the most promising ones in high-throughput cell line screens will be further tested and validated in 3D/in vivo models during later stages of my PhD project.
To enable generation of reliable drug predictions and applying these predictions at a personalized level in the future, the computational models continuously need to be refined with validation data. The validation process being a part of my PhD project is therefore an important step in bringing the computational models closer to the clinic.