Ane Møller Gabrielsen
Position:
Postdoctoral fellow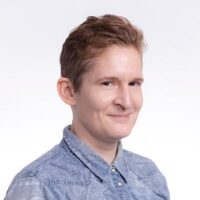 Department/University:
Norwegian University of Science and Technology (NTNU)
Address:
Department of Philosophy and Religious Studies, Campus Dragvoll, Låven, Trondheim, Norway
Area of Expertise:
Feminist technoscience
Posthumanism
Gender studies
Science and technology studies
Contribution to the Different Sub-projects
Role in the Sub-project(s):
Postdoc
Scientific Activities in the Different Sub-Projects
Crossover Research:
I am working as a postdoc in the Crossover Research 2.0 project, one of the cogwheels under the DrugLogics umbrella. Crossover is an interdisciplinary project working.
Crossover 2.0 is an integrated project where computer scientists, biologists and sociohumanists work together to explore the conditons for a well-constructed and viable knowledge commons for gene regulation. The project is a Responsible Research and Innovation project (RRI), experimenting with integration and collaboration as ways of practicing RRI. Central to this experimental RRI-approach is the joint mapping of actors (both human and non-human), stakeholders, bottlenecks and normative drivers. As a representative for the humanities and social sciences, I am concerned with the human elements and the meaning-making that takes place in the construction of digital knowledge infrastructures. However, as a technoscience scholar, I am also interested in the materiality of the knowledge commons and in the machine actors.
Ethos is a central concept for the work of our project group. Ethos could be understood as guiding beliefs and ideals, expressed through scientific and (other) social practices. However, ethos could also be seen as constructed through these practices, in other words, it could be understood as the effects practices. To explore and articulate an ethos of the gene regulation knowledge commons, it is therefore important to look at the practices involved and how they are expressing former valuations as well as producing new ones.
As part of my research, I am focusing on one of the sub-practices of the gene regulation knowledge commons; biocuration. The practice of manual curation of biological knowledge is crucial for the knowledge commons, but also constitutes a potential bottleneck as it is time-consuming manual labour. I am looking into how manual curation is being valued, and how biocurators themselves value their work. I am also looking at the human-machine interactions that take place and the potential conflicts that arise when human labour and machine action are merged in new digital knowledge infrastructures. Finally, I'm looking at what happens to our notions of "knowledge" in these human-machine constellations.